Tango, Jazz, World Music & Folk Song Reloaded with Quadro Nuevo
Premiere: For the first time with choir in the Große Festspielhaus
"Thoughts are free. Let's let them fly. Full of joy, energy and rhythmic finesse. " -Quadro Nuevo
The folk song: almost forgotten - salvaged as a treasure. ECHO award winner Quadro Nuevo breathes new, multicultural life into him. The five virtuosos take the old sages as a launching pad for creative flights of fancy and daring improvisations. The love, the beauty, the freedom, the intoxication ... the once sung topics of life now sound as a casual bossa nova, a passionate tango, a music adventure. Played differently than ever before - and yet everyone carries these melodies in the heart!
Volkslied Reloaded LIVE at the Prinzregententheater, Munich, conducted by Elisabeth Fuchs and together with the Münchner Rundfunkorchester (recording from the 8, May 2019):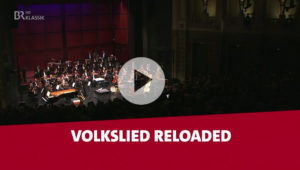 Quadro Nuevo:
Evelyn Huber · Harp, Salterio
Mulo Francel · Saxophone, clarinet
DD Lowka · Bass, drums
Andreas Hinterseher · Accordion, Bandoneon
Chris Gall · Piano
Choir of the Philharmonie Salzburg
Elisabeth Fox · Conductor
Philharmonic Salzburg
DO · 15. April 2021 · 19: 30
Big festival house, Salzburg
(originally April 25, 2020)
Ticket prices: € 19 to € 149 *
* VIP tickets, including admission to the subsequent concert premiere party
As a thank you for your trust and support in a difficult time for culture professionals, there is until Easter Sunday, April 12, 2020, 15% discount.
Tickets that have already been purchased remain valid for the replacement date. If you are unable to attend the replacement appointment, you have three options:
Exchange your card for one Concert voucher on
Convert your card into one Donation um and thus ensure the continued existence the Salzburg Philharmonic and the Children's Festival. Your donation is tax deductible in Austria and Germany!
You will receive the on request Purchase price back.
Please contact us at least 2 weeks before the concert if you are unable to attend the alternative date and want to take one of the three options: tickets@philharmoniesalzburg.at
Organizer ∙ Tickets: Philharmonic Salzburg
Estimated end of concert approx. 21:45 p.m.
Concert with a break
Photo © Quadro Nuevo