In the middle of the orchestra!
Best of Hollywood
Salzburg premiere!
Conductor Elisabeth Fuchs invites you to listen in the middle of the orchestra - musicians are dispersed in the audience.
"For me, a concert evening was successful when the hall creates a good atmosphere between musicians and the audience. Because the connection to my listeners is always a big concern to me. In our new concert format we invite the audience to sit down to where the music originates. The ticket becomes a place next to the violins, the double basses, one of the wind instruments or maybe even the timpani. Up close and in the middle of the big sound body, the music is once more clearly experienced. A concert without stage, ditch, rank or parquet " happy conductor Elisabeth Fuchs.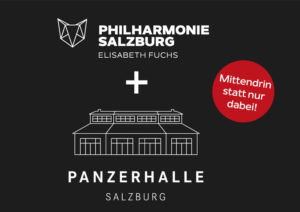 BEST OF HOLLYWOOD
The Philharmonie Salzburg plays one this evening Selection of film music and take their audience on a journey through "Pirates of the Caribbean", "Titanic", "Star Wars", "Forrest Gump", "Themes from 007" and other world famous tunes.
Elisabeth Fox · Conductor
Philharmonic Salzburg
DO · 2. April 2020 · 19: 30
Panzerhalle, Salzburg
Ticket price: € 12, - * to € 44, -
* reduced tickets for students, apprentices, students up to 26 years and wheelchair places
Organizer · Maps: Philharmonic Salzburg