In the middle of the orchestra · Salzburg premiere
Experience Best of Hollywood in the middle of the orchestra
In the new concert format, the audience sits where the music is created. The ticket becomes a place next to the violins, the double basses, one of the wind instruments or maybe even next to the timpani. The music can be experienced more clearly up close and in the middle of the large sound box. A concert without a stage, ditch, rank or parquet.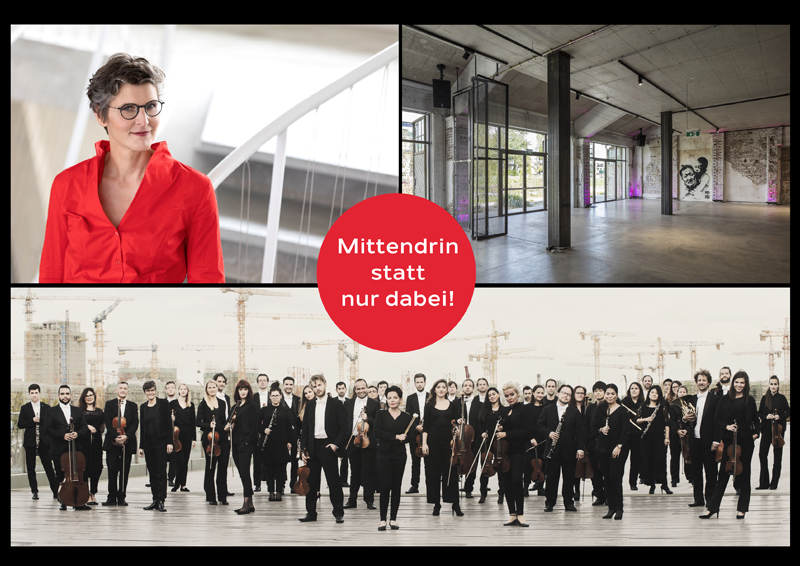 SOLD OUT!
Now tickets for the next concert date
secure on September 16, 2020:
The Salzburg Philharmonic plays a selection of film music this evening and takes its audience on a journey through "Pirates of the Caribbean", "Titanic", "Star Wars", "Forrest Gump", "James Bond 007" and other world-famous melodies.
Elisabeth Fuchs · Conductor
Philharmonic Salzburg
THU July 2, 2020:19
Panzerhalle, Hall D, Salzburg
(originally April 2, 2020)
Ticket prices: 12 € and 44 € · free choice of seats
Organizer · Maps: Philharmonic Salzburg in cooperation with the Panzerhalle
SOLD OUT!
Now cards for the next one Concert date on September 16, 2020 to back up!
Tickets that have already been purchased remain valid for the replacement date. If you are unable to attend the replacement appointment, you have three options:
Exchange your card for one Concert voucher on
Convert your card into one Donation um and thus ensure the continued existence the Salzburg Philharmonic and the Children's Festival. Your donation is tax deductible in Austria and Germany!
You will receive the on request Purchase price back.
Please contact us at least 2 weeks before the concert if you are unable to attend the alternative date and want to take one of the three options: tickets@philharmoniesalzburg.at
Stay up to date for more concert dates:
Estimated end of concert approx. 21:30 p.m.
Concert with a break.
Photo © cphelps