Learn to play the trombone with musicians from the Philharmonie Salzburg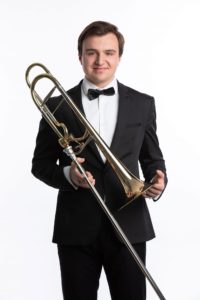 Name: Žto Kopše
Instrument (s): trombone
Location: Online
Language of instruction: English
Home visits for an extra charge (extra charge agreed individually): no
Price € per 30 minutes: € 20
Price € per 45 minutes: € 25
Price € per 60 minutes: € 30
Payment terms:
Contact: zan.kopse@gmail.com
Žan Kopše was born in Celje, Slovenia, in 1999. He started to play the
trombone at age 14, before that he was an euphonium player. He started to
play the euphonium at age 9 in music school Rogaška Slatina with the prof.
Marjan Feguš and later at Music High school in Celje with prof. Jure Kranjc
where he graduated from euphonium and trombone. He participated in the
national and international competitions where he achieved first, seconds
awards, gold and silver medals as a soloist and as a member of the
chamber ensemble. In 2019 he won the national competition TEMSIG with
brass quinet and in 2020 he won at the same competition as a soloist in his
category.
In 2018 he successfully passed the entrance examination at the Academy of
music Ljubljana where he studies trombone with prof. Dusan Kranjc
During his studies, he is a regular member of academic orchestra and
chamber groups. He played with the national theater orchestra Maribor,
Slovenian Philharmonics, Brass ensemble of Slovenian Philharmonics. Hey
Also plays with various orchestras at home and abroad. He has been a
Member of Salzburg Philharmonic since May 2021.
He attended a number of masterclasses and private lessons with famous
Slovenian and foreign trombone and euphonium players such as: Jonas
Bylund, Otmar Gaiswinkler, Peter Štuhec, Andrej Karba, Dusan Kranjc
Branimir Slokar, Steven Mead, James Gourlay and Jon Sass.