Learn clarinet with musicians from the Philharmonie Salzburg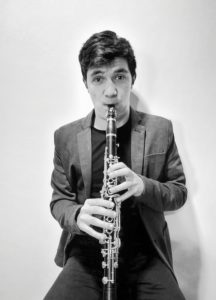 Name: Filip Brezovšek
Instrument (s): clarinet
Location: Salzburg
Languages ​​of instruction: German, English, Slovenian
Home visits for a surcharge (surcharge agreed individually): yes
Price € per 30 minutes: € 25
Price € per 45 minutes: € 35
Price € per 60 minutes: € 40
Contact: f.brezovsek@gmail.com
Born in Slovenia, Filip Brezovšek began to play the clarinet at the age of 7 and at 15 he passed the entrance exam at the music high school in Celje, where he studied with Jurij Hladnik. In 2016 Filip was accepted into the class of Wenzel Fuchs at the Mozarteum University Salzburg, where he currently lives.
In 2015 he founded The Bussy Quartet, with whom he has played many concerts in Slovenia. In 2016 Filip founded a series of classical concerts "Vojniški glasbeni večeri" (Vojnik Music Nights) in his hometown Vojnik with the help of the town hall. In this context, Filip would like to bring together musicians with different styles and backgrounds, the concerts listed include music from baroque to jazz.
Filip has been playing with the Salzburg Philharmonie since 2017 and has been an academist of the orchestra since 2019.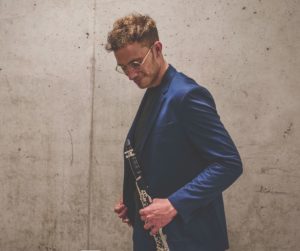 Name: Sebastian Hayn
Instrument (s): Clarinet (German and French system)
Location: Salzburg
Languages ​​of instruction: German, English, Italian
Home visits for a surcharge (surcharge individually agreed): yes (+10 € / 60 min, + 5 € / 30 min)
Price € per 30 minutes: € 25
Price € per 45 minutes: € 35
Price € per 60 minutes: € 40
Price € per 10 hours (10 x 60 min): 360
Contact: haynsebastian1@gmail.com
Sebastian Hayn (* 1996) completed his bachelor's degree at the F. Morlacchi Music Conservatory in Perugia at the age of 18 with honors.
In 2016/2017 he attended postgraduate studies at the G. Verdi Conservatory in Milan.
Until 2020 he studied concert clarinet in the master's course at the Mozarteum University in Salzburg with Prof. Andreas Schablas.
Sebastian has been studying postgraduate studies with Prof. Wenzel Fuchs since September 2020.
In March 2015 Sebastian played Frank Ticheli's clarinet concerto with the orchestra of Carrol University in Wisconsin (USA).
Three years later, Sebastian Hayn won a position as principal clarinetist in the Italian youth orchestra.
Sebastian has been a member of the Salzburg Philharmonic since 2019.
In addition to his activities as a soloist and orchestral musician, Sebastian is also an enthusiastic chamber musician and thus founded the Trio Plenilunio.
As a soloist and chamber musician, Sebastian has performed at numerous festivals such as the Interharmony Festival, Festival dei due Mondi (Spoleto), Amici della Musica (Firenze), Ravello Festival 2019, Festival South Tyrol, Salzburg Festival.
Sebastian is the winner of numerous national and international prizes and competitions. Among other things, he was the winner of the International Summer Academy Mozarteum 2016. He also won the International Competition "Luigi Zanuccoli" in 2019, was one of the finalists of the Yamaha Scholarship Competition and won the Buffet-Crampon Scholarship in 2019.