Learn oboe with musicians from the Philharmonie Salzburg
Name: Emmanuelle Lalancette
Instrument (s): oboe
Location: Salzburg (Schallmoos)
Languages ​​of instruction: German, English, French, Spanish
Home visits for a surcharge (surcharge agreed individually): yes
Price € per 30 minutes: € 30
Price € per 45 minutes: € 40
Price € per 60 minutes: € 50
Contact: emmanuellelalancette@gmail.com
In 1999 Emmanuelle began studying oboe with Philippe Magnan at the Conservatoire de Musique de Québec, where she completed her master's degree. She continued her studies at the prestigious Mozarteum University, Salzburg with Stefan Schilli, where she received her postgraduate degree in 2009. Since then she has been invited to various orchestras, such as the Augsburg Philharmonic, the Mozarteum Orchestra, the Munich Bach Orchestra, the Salzburg Chamber Soloists, the Philharmonie Salzburg, the Symphony Orchestras of Québec, Drummondville, Rimouski, and Sherbrooke and the Bad Reichenhaller Philharmonic. With these she has already performed in China, Russia, Italy, Switzerland, France and Spain. From 2011 to 2015 she was professor in Spain for oboe and bassoon and continues her career as a soloist, chamber musician and orchestral musician.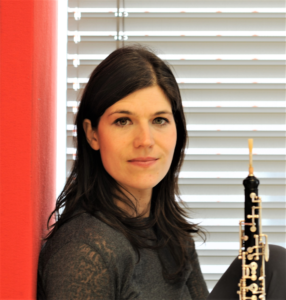 Name: Elisabeth Traunbauer
Instrument (s): oboe, English horn, reed making, qigong
Place of instruction: Salzburg; Whale
Languages ​​of instruction: German, English, French
Home visits for a surcharge (surcharge agreed individually): yes
Price € per 30 minutes: depending on the possibility and number of hours: € 20-30
Price € per 45 minutes: 30-45 €
Price € per 60 minutes: 45-60 €
Group courses live or online (zoom): € 12 per appointment.
Contact: e.traunbauer@gmail.com, elisabethtraunbauer@posteo.de
Elisabeth Traunbauer began playing the piano and recorder during her childhood in Upper Austria, as well as playing the oboe at the age of 12. She studied at the conservatories in Linz (Josef Blank) and Munich (Clara Dent) as well as at the music academies in Dresden (Guido Titze) and Augsburg (Heike Steinbrecher). She taught at the Landesmusikschulwerk Oberösterreich, in the Musikschulverband Niederösterreich, and freelance in Augsburg in the areas of elementary music education and oboe.
As a freelance oboist she plays in the Trio Evanse, with the Philharmonie Salzburg, the Landesbühnen Niederbayern, the Capella St. Anna, the Augsburg Cathedral Orchestra, the Leopold Mozart Chamber Orchestra and the Franz Lehár Orchestra. She toured with this ensemble to Vienna, Athens and China, among others. She is a scholarship holder of the Yehudi Menuhin Foundation "Live music now", loves to dance and, in addition to her musical work, also works as a qigong teacher.
www.elisabethtraunbauer.jimdofree.com
First meeting of Qigong and Taichi as part of the oboe music studies in Linz. The practice of Qigong and Taichi has helped me a lot to find a physical and mental balance to practicing on the instrument and to encounter myself in a completely new way. By warming up; Loosening / stretching exercises, as well as exercises in rest and movement, blockages flow; The energy (Qi) in the body can flow / be regulated / built up again. I am happy to pass on these experiences individually or in groups.
2006-2008: Qigong basic training with Dr. Alexandra Gusetti
2008-2009: Training as a therapeutic Qigong / Qigong teacher according to the standards of the IQTOE
2010-2011: Taichi training
Further education in the areas of yoga, Pilates, Franklin method, musician's medicine, management of Qigong courses at VHS
Participation in supervision seminars.
https://elisabethtraunbauer.jimdofree.com/%C3%BCber-mich-1/mein-qigong-weg/