Learn to flute with musicians from the Philharmonie Salzburg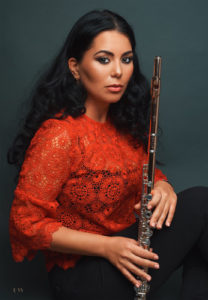 Name: Vita Benko
Instrument (s): flute
Location: Salzburg
Languages ​​of instruction: German, English, Slovenian or Serbo-Croatian
Home visits for a surcharge (surcharge agreed individually): yes
The prices are to be agreed individually.
Contact: info@vitabenko.com
At the Mozarteum University, I completed my bachelor, master and postgraduate studies in flute and have a lot of teaching experience (music school and music high school). I play with the Philharmonie Salzburg, the Salzburg Chamber Soloists and the State Opera in Ljubljana, Slovenia. I can speak German, English, Slovenian or Serbo-Croatian. A one-to-one lesson with me lasts 45 minutes or 60 minutes. The lessons take place at my home (Salzburg city). I look forward to working with you!
www.vitabenko.com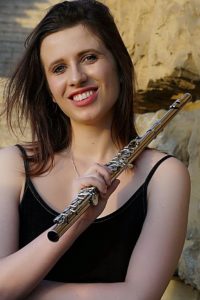 Name: Aleksandra Pechytiak
Instrument (s): Flute / Piccolo flute
Location: Salzburg (Itzling)
Languages ​​of instruction: German, English, Polish
Home visits for a surcharge (surcharge agreed individually): yes
Price € per 30 minutes: € 20
Price € per 45 minutes: € 30
Price € per 60 minutes: € 40
Contact: aleksandra.pechytiak@gmail.com
Aleksandra Pechytiak was born in Poland in 1992, where she received her first flute lessons at the age of 10. She has won various international and national chamber music, woodwind and flute competitions in Poland (Warsaw, Wroclaw, Szczecin) as well as in Portugal, the Netherlands and Slovenia. When she was in the music high school in Wroclaw, she received three artistic scholarships from the Polish Minister of Culture and Art in Warsaw and also from the mayor of the city of Wroclaw. There she took flute lessons from Cezary Traczewski. She made her debut as a soloist at the age of 18 with the Breslau Philharmonic Orchestra (performance of the Carmen Fantasy for flute and orchestra). After graduating from high school, she moved to Antwerp (Belgium), where she completed her bachelor's degree at the Royal Conservatoire Antwerp in the flute class of Professor Aldo Baerten. In 2014 she won a position there in the orchestra academy of the Royal Flemish Philharmonic Antwerp. The following year she moved to Mannheim, where she completed her master's degree with Prof. Jean-Michel Tanguy with distinction. There she founded the duo "L'artesienne" together with the harpist Jelena Engelhardt. In 2018 the duo won first prize in the international SVIREL competition for soloists and chamber music groups in Slovenia. During her studies in Germany, she performed Reinecke's flute concerto as a soloist with the Baden Baden Philharmonic. During this time she played regularly with the Mannheim Philharmonic, the Kurpfälzisches Kammerorchester, and the Warsaw Radio Symphony Orchestra. She attended master classes with Andrea Lieberknecht, Felix Renggli, Peter Lukas Graf, Ransom Wilson, Wissam Boustany, Wally Hase, Mikael Helasvuo, Susan Milan and Sarah Louvion. She is a member of the Live Music Now Germany association, which promotes and supports young musicians.
During her studies in Germany she was also a flute teacher at the Palatinate Music School.
Since October 2018 she has been expanding her skills in postgraduate studies with Prof. Paolo Taballione at the "Mozarteum" University in Salzburg. She is currently engaged as principal flutist at the Philharmonie Salzburg.